Sexual Health Nurse (Casual)
HSHC is a non-profit, community-based sexual and reproductive health centre located in downtown Halifax, NS. We welcome over 10,000 clients through our doors each year and we are looking forward to creating a sustainable collaborative practice team in 2018.
Our vision: All members of our community have full, equal, non-judgmental and safe access to sexual and reproductive health care and education.
Our mission: Improve and optimize the sexual health of all members of our community, by providing high quality and caring services, and empowering clients to make healthy choices.
We are searching for nurses who support our organization's mandate; are invested in offering high-quality, people-centered care, and are interested in working in a fast-paced, collaborative environment.
The Opportunity
We are currently recruiting for one casual position (RN or LPN). Casual nursing staff are offered shifts on an as needed basis to help support nursing coverage during absences (e.g. vacations) and high demand times.
Members of the HSHC nursing team provide quality clinical services and support as part of a multi-disciplinary team. Duties and activities support a range of clinical needs related to sexual and reproductive health.
Responsibilities include:
Provision of non-judgmental, culturally sensitive, and confidential services
Initiate and maintain client charts and ensure accurate record keeping
Independent clinical decision making in consultation with medical staff
Contribute to effective team relationships
Ability to work within clinical guidelines
Client assessment including medical and sexual history
Asymptomatic wellness checks
Management of uncomplicated sexual health problems
HIV/STBBI testing and counseling
Trans* health support
Abortion counseling
Provides interventions, treatments and authorized medicines within the context of standing orders
Provision of client education
Providing care for complex cases (e.g.: HIV clients)
Referring patients with high needs appropriately
Maintaining reportable STI information and liaise with Public Health (initiate partner notification as required)
Essential Skills, Knowledge and Experience
Must be a graduate of an approved nursing program (RN or LPN)
Updated CPR certification
Venipuncture skills (HIV/STBBI testing)
Ability to administer injections
Ability to administer immunizations
Ability to dispense medication
Triage skills
Ability to work with clients in distress
Ability to work in collaboration with a multi-disciplinary health team
Critical thinking
Attention to best practice standards related to the RN and LPN Competency Profiles
Expectation of ongoing self-learning
Desirable Skills, Knowledge, and Experience
WPATH training
Experience working in trans* health
HIV/STBBI testing counseling skills
Pregnancy options counseling skills
Syphilis treatment training
SANE training
Experience working in mental health
Public speaking and presentation skills
Experiencing reviewing and updating clinic-based policies and protocols
Budget management skills
A personal understanding and investment in supporting and protecting sexual and reproductive rights in Canada
Familiarity with the non-profit sector
Previous experience (1-2 years) working in a fast-paced clinical environment
Familiarity with basic Microsoft programs and a willingness to learn new technologies
To apply: Interested candidates should apply online at Indeed.ca (link to posting below). Please submit a resume and cover letter outlining your knowledge, skills, and abilities, and why you want to work at HSHC.
https://ca.indeed.com/viewjob?t=sexual+health+nurse+rn+or+lpn&jk=31dd8c3d7798735d&_ga=2.128682441.472780183.1522235910-139775910.1498828792
 Only applications accepted through Indeed.ca will be reviewed by the selection committee (no direct emails or hard copies please)
Competition Deadline:  April 8, 2018 by 5:00PM
_____________________________________________________________________
Physicians (Part-time & Locum)
Halifax Sexual Health Centre (HSHC), Halifax, NS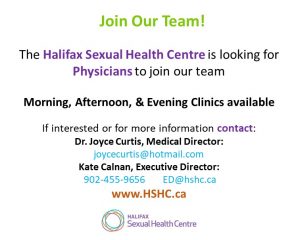 SaveSave
SaveSave
SaveSave