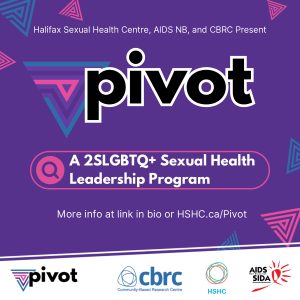 Interested in 2SLGBTQ+ sexual & reproductive health? Want to shake up the systems impacting our sexual & reproductive health and be a catalyst for change in your community? If so, then we've got a program for you! This Fall, The Halifax Sexual Health Centre (HSHC), AIDS New Brunswick (AIDS NB), and Community Based Research Centre (CBRC), have partnered together to bring Pivot, a 2SLGBTQ+ Community Health Leadership Program. This program is for 2SLGBTQIA+ identifying people in New Brunswick looking to lead the charge in developing and implementing community-driven responses to the health challenges facing their community.
2SLGBTQ+  communities across Canada – and indeed the world – have demonstrated extraordinary resilience, time and time again stepping up and into the gaps to fight for the health, well-being, and rights of themselves and those we care about. It is this community response that Pivot aims to harness, centering 2SLGBTQ+ community members in both the identification of the community health challenges they face and in the development and implementation of community-driven responses to those challenges.
Historically, 2SLGBTQ+ communities have faced a range of health disparities in comparison to our heterosexual and cisgender counterparts. Often, many community health programs respond with approaches that are primarily focused on the individual – what they are doing wrong, and what changes they need to make to improve their health and wellbeing (AKA a deficit-based approach). The Pivot program takes a different approach.
Pivot is an asset-based program. It shifts the burden of change from the individual to the systems around them. One of the primary drivers of the health disparities impacting 2SLGBTQ+ people are the forms of stigma and oppression we face as members of minority groups which are often marginalized by society – including but not limited to homophobia, transphobia, racism, HIV stigma, and ableism. These forms of stigma and oppression not only create a context wherein 2SLGBTQ+ people are more likely to experience negative health outcomes but also create barriers to us assessing culturally competent care and supports.
WHAT IS PIVOT?
Pivot is a program designed to equip 2SLGBTQ+ community members with the knowledge and skills they need to dig deeper and understand the root causes of the health challenges our communities face. with a specific focus on how the systems around us contribute to these challenges and what changes to those systems are necessary to improve the health and wellbeing of the communities we belong to.
The program is done is two parts:  
Part one is the knowledge-building portion of the program. Over the course of a weekend, you will partake in a series of activities and workshops focusing on equipping you with the knowledge and skills you need to identify and respond to the health challenges you and your fellow participants want to address.
Topics include: 
Systems change and advocacy
Current critical SRH issues both locally and globally
Fatphobia & ageism in SRH advocacy 
Learning is active, interactive, and rooted in self-determination. Participants don't just sit back and learn but instead become teachers themselves, with everyone's collective knowledge contributing to the development of the entire group. 
Part Two of the program is where you will move from knowledge-building to paraprofessional experience! Participants will work together to collectively identify top health challenges you feel are facing your community and then develop a community health project as a response to your chosen challenge. 
At the end of the program, you'll also then receive a certificate of completion and a $50 Honorarium!!
WHO ARE WE LOOKING FOR?
People who identify as part of the 2SLGBTQIA+ community living in New Brunswick 18+. 
WHEN/WHERE WILL IT HAPPEN?
Part 1 will take place in-person November 3-5, 2023 at Monarch Night Club. 474 Queen St, Fredericton, NB E3B 1B6. 
Day 1 is Friday November 3rd from 6:30pm-8pm
Day 2 is Saturday November 4th 10am – 5pm
Day 3 is Sunday November 5th 10am-5pm
***NOTE: masking will be required when in person. Masks will be provided if you don't have one. We will also be providing covid tests, and while not mandatory, it is strongly encouraged that folks do a test before attending.
Part 2 will take place virtually on Zoom and will go until January 2024. The details are TBD and will be decided in collaboration with participants, HSHC, and AIDS NB. 
HOW MUCH WILL IT COST?
This is a FREE program!
In fact, all participants who complete the program will receive a $50 honorarium! 
We'll also be providing free food and bus tickets to get to/from the venue!
DEADLINE TO REGISTER: 
October 27th 2023. But we only have 15 spots so sign up early!
Please sign up using this link: https://forms.gle/HDgJsrdunYpV9Kqm7 
QUESTIONS?
If you have any further questions please reach out to the project coordinator Abbie (she/her) at abigail@hshc.ca