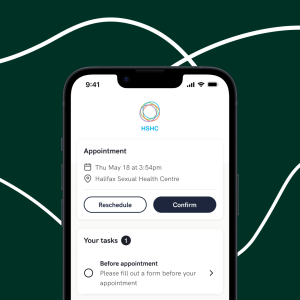 What is it?
Mikata Health is a state of the art text-based reminder and chat system that integrates into the HSHC Electronic Medical Records (EMR) system. Mikata uses the schedule on the EMR to send appointment reminders, intake forms, and screenings. It also offers a chat system so that our admin team can send secure text messages to patients about follow-ups, appointments, and documents.
What can I expect to receive?
You can expect to receive automatic appointment reminder texts 7 days and 2 days before scheduled appointments. It will look something like this:
Hi there, these msgs are from the Health Centre to help you manage appts. Reply STOP anytime to opt-out. Please don't text personal health info. Your appt at the Health Centre is DATE and TIME. Pls tap the link to confirm & view important instructions: LINK
When the link is clicked, you will be brought to a secure browser where you will see HSHC's full name, address, logo, and phone number, appointment details (such as the date and time and any preparation instructions for your specific appointment type), and any intake forms required for your appointment. You will also see a button to confirm or cancel your appointment.
You may also receive text messages directly from our admin team. Some reasons that our admin may need to message you may be to request you to call us for various non-urgent follow-up reasons, to send specialist appointment details, to cancel appointments due to weather or emergencies, and to send documentation (such as bloodwork requisitions) virtually, at the request of the patient. We will NOT text you with detailed test results, prescriptions, to inform you of an exposure to an STI, or to solicit any personal medical information via text.
If a direct message contains sensitive personal health information, you will be required to confirm your identity by entering your health card number. If you don't have a health card number, you will not be able to receive secure messages. Admin will contact you via phone and/or mail instead.
Messages and reminders come via text message to a mobile number. If you have an email but no mobile number on file, it will default to email messages instead. If you opt out of text messages, you will also need to opt out of email separately. Those who opt-out of Mikata or do not have a mobile number will NOT be receiving phone call reminders.
You cannot text message HSHC back via Mikata Health. This service is not meant to fully replace all phone-based conversations that may be necessary to manage your health and care at HSHC.
How is my information protected?
Mikata Health is fully compliant with all provincial and federal regulations to keep patient data safe. You can read more about their privacy policies here: https://mikatahealth.com/privacy_policy
How can I opt-out?
You can opt-out of Mikata Health after you receive your first message from the service. We cannot opt you out of the service before you receive the first message. Unfortunately, those who have consented or did not consent to HSHC's previous text reminder service via a Patient Information Form will still need to opt-out manually from Mikata. If you opt out of text messages, you will also need to opt out of email separately. If you opt-out of Mikata texts, you can opt back in by replying "START" to the Mikata text number. If you opt-out of Mikata emails, you can opt back in by contacting the HSHC admin team so they can submit a manual opt-in request for you. Those who opt out of Mikata will NOT receive a phone call reminder.
The pilot integration of Mikata Health is funded by the Government of Canada's Community Services Recovery Fund. Thank you!