What kind of social work support does HSHC offer?
Our social worker is Masters level trained and offers various types of services and supports. Their primary focus is on gender-affirming care. They offer psychosocial readiness letters for gender-affirming surgery. They also offer intake appointments as part of onboarding new patients for gender-affirming hormone replacement therapy. You can find more information on our gender-affirming care service here: Transgender/Gender-Affirming Health
On top of providing gender-affirming care services and assessments, they also offer collaborative primary care social work services, such as single issue mental/sexual health discussions, resource navigation, diagnosis acceptance support, needs assessments, help with forms, etc.
These services can be offered in person or virtually, for anyone living in Nova Scotia. All social worker services at HSHC are FREE.
Big thanks to Sexual Health Nova Scotia for funding our social worker position!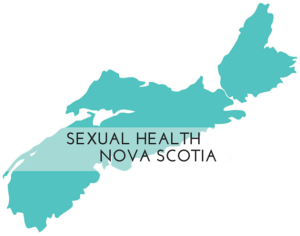 How do I book and prepare for a social work appointment at HSHC?
Booking an appointment with us is easy! Give us a call at 902.455.9656 ext. 0. You will need to speak to one of our medical administrators. They are always in the office Monday-Friday from 9:00 am – 4:00 pm (with the exception of holidays), but are not always in the office during our evening clinics (4:30 pm – 8:00 pm), so it is best to call during the day. We cannot book appointments over email or Facebook. You cannot book an appointment for someone else, even if they are your partner or child. We will need to speak with them directly. To book, we will need your full name as it appears on your health card, birth date, and phone number. You are also safe to share your pronouns and lived name with our admin while booking. We will always refer to you as you prefer!
Are you a youth? You do not need parental consent for any of our appointments.
Don't have access to or lost your health card? You are entitled to your health card information! Call MSI toll-free at 1-800-563-8880 (in Nova Scotia) or at 902-496-7008 from Monday-Friday 8am-5pm. We require the number and the expiry date. Another tip: take a picture of your card! You will never lose it again!