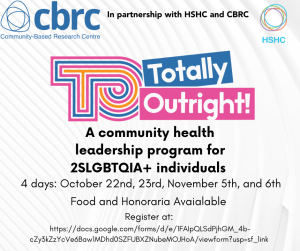 Halifax Sexual Health Centre is hosting TOTALLY OUTRIGHT in Nova Scotia as a partnership with Community-Based Research Centre.
The Totally Outright program is 2SLGBTQIA+ Community Health Leadership Training to empower people with the knowledge, skills, and application of leadership roles in the 2SLGBTQIA+ Community. Participants have to be in Nova Scotia and part of the 2SLGBTQIA+ community.
We'll be discussing some great sexual and reproductive health topics, like exploring pleasure, sex and disability, queer kinship, and more!
WHEN:
October 22 & 23: 9:00AM – 5:00PM
November 5 & 6: 9:00AM – 5:00PM
WHERE:
October 22nd and 23rd: Saint Mary's University, Loyola Building, 5865 Gorsebrook Ave, Room 177, Halifax, NS
November 5th and 6th: Dalhousie University, Student Union Building, 6136 University Ave, Halifax NS
After the training, you get to decide whether or not you want to participate in a Community Health Intervention. This means that you can choose what Sexual and Reproductive Health issue you want to address during your intervention and create your own project over the next four months!
Learn more about the training and to register at: https://docs.google.com/forms/d/e/1FAIpQLSdPjhGM_4b-cZy3kZzYcVe6Baw1MDhd0SZFUBXZNubeMOJHoA/viewform?usp=sf_link