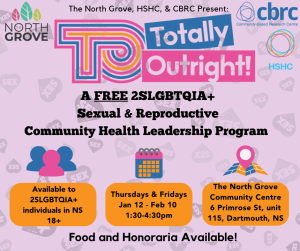 Hosted in partnership with The North Grove, Halifax Sexual Health Centre (HSHC) and Community Based Research Centre (CBRC), Totally Outright is a 2SLGBTQIA+ Health Leadership training program designed to empower 2SLGBTQIA+ people with the knowledge, skills and application of health leadership. Come build community, learn about sexual & reproductive health topics, and gain paraprofessional experience!
After completing the training, you get to participate in creating your own Community-Based Health Promotion! This means that you get the opportunity to choose a sexual and/or reproductive health issue you want to address in your community and create a knowledge product that will be shared to the public. 
Food will be provided at every session and an honorarium of $50 will be provided to participants after the project is completed, as well as a certificate of completion. 
The program will run every Thursday and Friday 1:30-4:30pm from January 12 until February 10, 2023. 
If you have questions or concerns please reach out to Abbie (she/her) at abigail@hshc.ca
Learn more about the training and register at:
https://docs.google.com/forms/d/1nOBKnLrBMX2faEd9GB1E8Fk0nejx6nKvqrMZsRDDhIs/edit